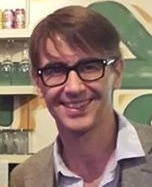 Andrea Scarantino, Department of Philosophy and Neuroscience Institute, Georgia State University
August 2015 – ISRE 2015 in Geneva was great. David Sander and his collaborators did a really good job putting together a top-notch program, which featured excellent keynotes, symposia, individual talks and posters by household names and young scholars from all over the world. I especially enjoyed touching base with many friends and colleagues in the welcoming setting of the Bastions campus, and being exposed to the latest research in a variety of disciplines. I learned a lot not just from the talks, but also from informal conversations I had throughout the conference.
I remember with special fondness an afternoon chat with Phoebe Ellsworth, Ira Roseman, and Agnes Moors in the shadows of a big tree on whether appraisals are causes of emotions, or just entailed by them. If only emotion research could always be this fun! ISRE 2015 confirmed the state of ebullient vitality of our field, the central importance emotions have acquired in the sciences of mind and the humanities alike, and the proud interdisciplinary nature of our society.
Geneva as a city gave us a warm welcome, in more ways than one. I won't forget the lake, the old streets, the stately buildings, the lovely street cafes' and the unique thrill of the $12 sandwich and the $24 pasta dish. Ah, the memories! You can read a report on the conference here by David Sander himself (check out pictures from the event at the bottom of David's report, and send me missing captions and extra pictures!).
This issue of Emotion Researcher focuses on one of the hottest topics in contemporary emotion theory: facial expressions. As you will see, the contents of this issue mark another step forward in the transition of ER from printed newsletter to online reference resource. ER is in effect becoming an Online Affectipedia With News, Brought To You By ISRE. A one-stop shop where you can go to get not only news about our society, but, most importantly, up-to-date and interdisciplinary overviews on central topics in emotion theory by some of the best people in our field.
Over the past two years, the ER has been exploring a number of possibilities for bringing you top-of-the-line research, including interviews, self-presentations, Q&As and self-standing articles. What we had not had so far was a debate. In this issue, we explore this format with a debate between proponents of three research traditions on the study of facial expressions: basic emotion theory, the behavioral ecology view and psychological constructionism.
Over several months, I have worked with Dacher Keltner and Daniel Cordaro, Alan Fridlund and Jim Russell to put together a debate on the nature of facial expressions. This is the first time in my memory that opposing research camps in the study of expressions face one another openly in a debate setting, and explore areas of agreement and dissent on the thorniest issues of emotion expression research.
I found out why these sorts of debates do not happen more often: they are damn hard to execute! Most importantly, they require the participation of scholars who are not afraid to engage with one another in the risky business of giving and asking for reasons. The patience, openness and intellectual firepower of the four debaters that accepted to be part of what I would like to call the Great Expressions Debate truly impressed me. I could not be more grateful to them for all the efforts they put into this exchange, which in my view should become required reading moving forward for anyone interested in facial expressions.
As you will see, the debate did not settle all differences (far from it!), but it revealed that there are significant and in some cases surprising areas of agreement even between fiercely opposed research camps. And where agreement was not found, it is now much clearer why, since some of the central sources of disagreement – some technical, some methodological, some substantive – have been brought to the surface and made explicit.
The debate was organized as follows. First, each group formulated a manifesto piece summarizing one's favorite research program on emotional expressions. You can read Keltner and Cordaro's manifesto piece here, Alan Fridlund's manifesto piece here, and Jim Russell's manifesto piece here. These are first-rate introductions to three traditions in the study of facial expressions, and they highlight recent developments within each research program.
Then, each debate group sent me some comments on manifesto pieces other than their own. On the basis of such comments and of my own readings of the manifesto pieces, I came up with several questions, some addressed to specific debaters, some addressed to all, and in a few cases offered follow-ups. The resulting debate, which you can find here, is tremendously interesting, and possibly a watershed moment in the study of facial expressions.
I really hope you will find the debate as enlightening as I did. I want to thank again Alan, Dacher, Daniel, and Jim for their contributions to the Great Expressions Debate. The copyrights of the manifesto pieces and of the debate are retained by their authors, which is a first for the Emotion Researcher. This is because the quality of this exchange was such that it is going to be re-published in modified form by a major academic press that demanded the preservation of copyrights by the authors.
Both the ISRE Matters Column and the Young Researcher Spotlight are thematically connected to facial expressions, to round up the issue. In his column, Arvid Kappas, who was re-elected President of ISRE this past July in Geneva (congrats Arvid!), takes us on a journey through three eras of facial expression research, and highlights some of the challenges related to teaching an automaton how to show emotions.
The Young Recipient Spotlight goes to Rachael Jack, an up-and-coming young researcher from the University of Glasgow who is doing innovative work on facial expressions by applying to expression research experimental techniques inspired by work in psychophysics. Rachael's research group probes the "receptive fields" of social perception in different cultures by presenting subjects with randomly formed facial expressions, and checking which configurations of the hyperspace of facial variation lead to inferences about emotions and other mental states.
There is yet another treat for you in this Emotion Researcher: an interview with Phoebe Ellsworth, one of the world's leading affective scientists and a real pioneer of appraisal theory. Phoebe traces the history of her outstanding career, sharing wonderful anecdotes about her life in academia, about falling in love with her husband while challenging the constitutionality of death-qualified juries, about the quality of today's social psychology research, and about many other topics of great interest to the emotion community. And do not miss the now customary ER recipe, which is Mussels with Roasted Potatoes!
But not all is good under the stars. This year, we have lost two influential scholars, Nico Frijda and Carolyn Saarni. Nico is remembered by Batja Mesquita here, and Carolyn is remembered by her daughter Heather Roller here. I did not have the pleasure to meet Carolyn, but I met Nico several times at workshops and conferences, and had the privilege of interviewing him for Emotion Researcher (his interview can be read here).
Nico was a profoundly insightful scholar, and an irresistibly charming man. His 1986 book, The Emotions, remains to this day a spectacular and perhaps unsurpassed achievement in emotion research. Nico and Carolyn have left us, and they will be sorely missed. But the seeds they have planted will live on, and bloom again. As the poet once said, the song has ended, but the melody lingers on…
As usual, be in touch with comments, ideas for future issues, information about forthcoming conferences, reports about especially promising young researchers, and whatever else strikes your fancy. To whet your appetite, let me also tell you that a new issue of Emotion Researcher is in the works, focused on romantic and parental love. Stay tuned!
PS For the PDFs of this issue, click here.
---
Previous Editor's Columns
Editor's Column – Emotional Intelligence Issue
Editor's Column – Musical Emotions Issue
Editor's Column – Emotions and Social Engagement Issue
Editor's Column – Understanding Disgust Issue
Editor's Column – Emotional Brain Issue