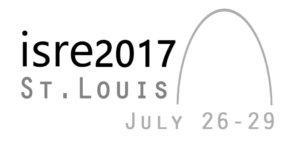 W. Gerrod Parrott, Department of Psychology, Georgetown University
A Message from the Program Committee Chair
July 2017 – On behalf of the Program Committee, I am pleased to welcome emotion researchers to the upcoming meeting of ISRE, which will convene in the USA in the city of St. Louis, Missouri on 26-29 July 2017.  The Program Committee received a strong set of submissions which have been arranged into plenary sessions, symposia, panels of talks organized around themes, poster sessions, and a session of rapid-fire presentations of late-breaking research.
We are pleased to have achieved several noteworthy goals in setting up this year's program. The various sessions represent the full range of disciplines now engaged in research on emotion, and this year's conference will be an opportunity for attendees to learn about recent research from a variety of perspectives.  There are speakers from philosophy, sociology, history, literature, computer science, linguistics, and education, as well as from the full range of psychological approaches – social, cognitive, developmental, neuroscience, cultural, industrial/organizational, and clinical. The Program Committee achieved this goal without issuing special invitations or mandating a pre-set set of topics; this range of approaches and topics emerged naturally from the papers that were freely submitted by the diverse ISRE membership, and thus represents a true sample of the approaches and topics that are active and of interest this year.
We have invited three plenary speakers and a special Presidential Symposium, one of which is programmed for each day of the conference.  Jonathan Gratch, a computer scientist and psychologist, will speak at the opening session on the topic, "The promise and peril of emotionally intelligent machines."  The opening speaker on the first full day of the conference will be Ruth Leys, a humanities theorist.  Her talk is titled "Outside-in: Mirror neurons and the social performance of empathy."  The speaker at the plenary session on the second full day will be Lynn Smith-Lovin, a sociologist who will speak on "Identities, selves and mixed emotions."  On the final day of the conference, ISRE President Arvid Kappas will chair a symposium on the role of empirical evidence (and replication thereof) for theories of psychology; the panelists will represent the fields of philosophy, psychology, and sociology.  To mention just a sample from the many fascinating topics on this year's program, there will be presentations about facial expressions and emotional communication, political and moral emotions, depression, appraisal, affective computing, history of emotions, emotional development, social exclusion, and a host of specific emotions.
We are especially pleased to have involved researchers who are early in their careers.  Special discount rates for registration and hotel accommodation have made attendance more economical.  And the variety of presentation formats – talks, posters, rapid-fire presentations – have provided an appealing range of options.
The program is online.  Check it out at http://isre2017.org/program.html.
The variety of interesting topics is most exciting.  I'm pleased that we were able to arrange the sessions so that there are never more than four sessions occurring simultaneously, and usually there are only three.  Nevertheless, if you are like me your problem is going to be in deciding which session to attend and which regrettably to miss.
I look forward to seeing everyone in St. Louis!